The Carnival Day is on the Saturday of the Carnival weekend. It starts at 1pm with the floats being judged.  There are plenty of things to see and do before the parade leaves to tour the village. Once the  parade returns then the evening entertainments starts.
Steam Engine Tug of War
There is plenty going on during the afternoon.  The young people are always keen to take part in the Children vs Steam Engine tug of war. 
In this photo, the Children had the upper hand in this heat, but lost over all 3-2. 
The Terk Cart Race 
This race is the scouting version of the Royal Navy's gun race.
The trek cart was used around World War One by the military to transport ammunition and stores to the battlefield. It was adopted by the Scouts to move stores and tents to Summer camp.
The Scouts race these over a course where the carts are disassembled, passed over obstacles and then re assembled for the run back to the finish line.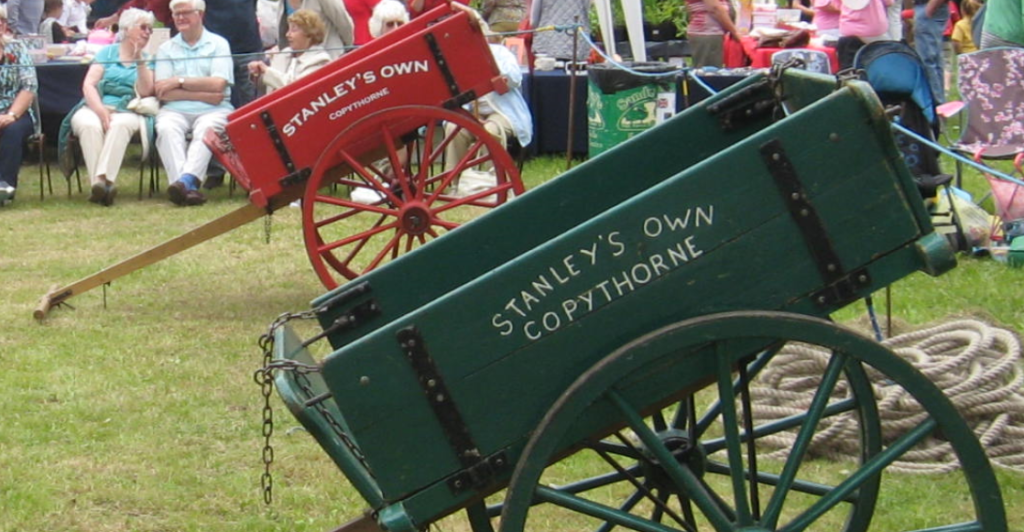 Beer Tent
There is a beer tent selling wines, real ales, larger and cider.
The tent is always busy and the staff work hard to ensure the queue isn't very long.
Food and soft drinks
If you get hungry there is a BBQ on the go but elsewhere on the site there is an ice cream van, hot and cold soft drinks,  light refreshments and cakes available as well.
Some of the entertainment during the day
Tug of war
Dog show
Ice creams
Strawberries and cream
Kids rides
Face painting
Craft Stalls
Depending on availability a Fire engine and Police car
The parade leaves at 5 pm led out by the Stanleys own Scout and Gide band. 
As the Parade returns the evening event starts. 
The bar is still open until late and the evening food is being cooked and the invited bands start to play. In the past we have had The Frontliners and Sophie Penwell entertaining the crowds into the night.